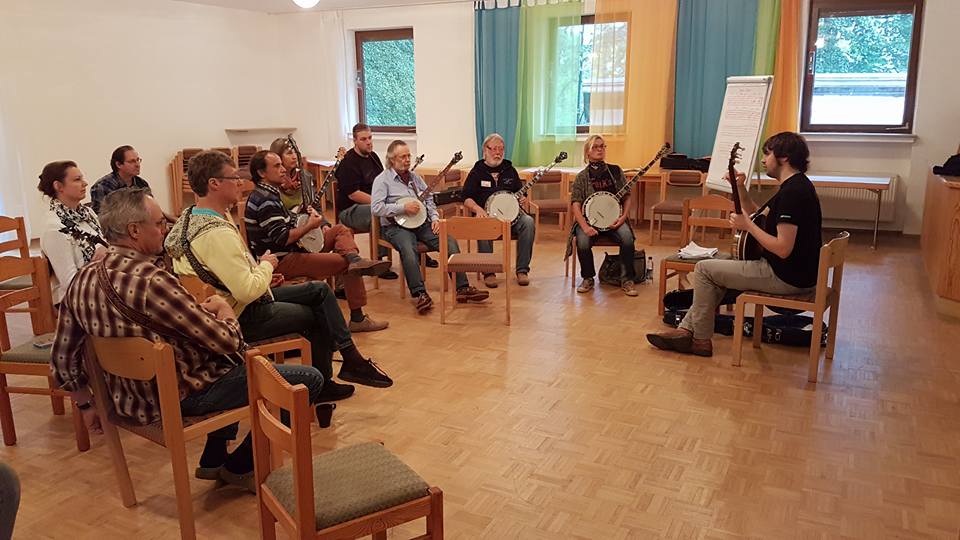 Banjo Tuition
NEW PATREON SUBSCRIPTION PAGES FEATURING EXCLUSIVE BANJO TABS AND INSTRUCTIONAL VIDEOS – click here for more info
Dan is an experienced banjo teacher who teaches private lessons in person and over skype/zoom – just head to the contact page to arrange! He can teach from the beginning or help intermediate/advanced players to hone technique or take their playing in new directions. He has taught several people now establishing themselves on the UK folk scene including Kate Griffin, Joe Danks, Chris Fox and Bertie Armstrong. He is also an experienced banjo workshop leader and has taught alongside some of the biggest names in American banjo at banjo camps in the USA as well as at many folk festivals throughout the world. He also teaches several music students specialising in banjo at universities in the UK. He has also released two books of banjo tablature.
As well as private lessons, Dan has run a successful Patreon page for over two years where for a small amount each month you can have exclusive access to video performances, banjo tabs and instructional videos. For full information click here.
Tab Writing
In addition to this, if you're a banjo player and you're looking for a clawhammer arrangement of a particular song or tune then Dan can do this for you! Depending on the piece, it can be tailored to the level you are at and usually costs the equivalent of an hour's teaching. Again, just head to the contact page to arrange.

Care Homes
Dan has retained a huge passion for outreach work working in the fields of mental health, the elderly, people living with dementia and children and adults with special educational needs. He particularly specialises in playing in nursing homes with concerts combining the best of well known material to stir memories with upbeat folk music to get feet tapping! Much of this work was done through the prestigious Live Music Now scheme which included a memorable residency at a Surrey care home which rekindled the musical and personal fire in former musician Glen Mason who was one of the residents. Dan's song 'The Song Always Stays' was inspired by the experience and Live Music Now subsequently launched a campaign for music in care homes using the name of the song. Dan now works independently so can be contacted directly for bookings. He also works with the Music In Hospitals scheme.

Workshops
Dan is an experienced leader of more general music workshops with adults and in both mainstream and special educational needs schools. Projects have included a concert with a band of hundreds of schoolchildren at Wembley Arena, the recording of a single and video with teenagers in Cardiff and leading a community choir. Dan currently works with Make Some Noise, an organisation based in Staffordshire helping children and young people to experience music making.