Dear all,
It's August, how the hell did that happen?! This year is running away. Let me bring you up to speed first of all…July was quite a mixed bag of stuff. June ended with a superb gig at Fortyfest, a private festival in Staffordshire run by some dear friends of mine. In fact one of them used to introduce me on at the legendary jam nights at Joxers (as was, Market Vaults now) as 'the main boogaloo'. It gave me quite a confidence boost as a scared 16 year old!
After that it was into July and unusually, my first gig of the month was a wake at a Bridgnorth pub. It's nice how music can make a difference in so many different settings! Next up was a weekend with UFQ firstly at the delightful Kimpton Folk Festival alongside a host of the most excellent acts on the folk scene and then up to Keswick for a banging gig at the Theatre By The Lake.
And then came Valencia…Valencia is mightily warm! We were there for a fabulous four days working with the musicians from Unio Musical. We opened up with a gig of our own then after a few days teaching and rehearsing it was back to the same venue to perform with these wonderful musicians. See the photo, it was quite a big band!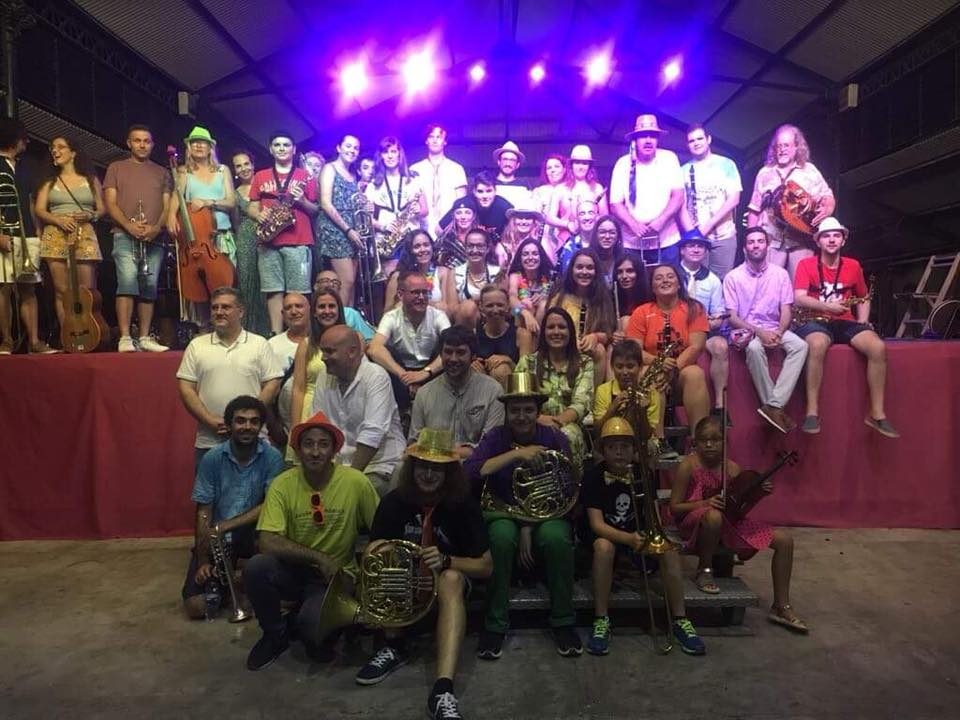 We were also treated to some delicious paella and assorted other mouth watering food and drink. Oh the drink. I chickened out of drinking sangria from one of those natty jug things that you literally pour down your mouth – my fear of clumsiness and indeed my actual clumsiness intervened – but I enjoyed it! We also had a lovely time on the beach, particularly with Joe and Paloma's delightful daughter Sabela. And it was my birthday!
After returning to England (a day late owing to an unexpected bit of sickness for poor old Tom…on the plane…don't ask, and don't use easyjet…) it was back into solo action in Eastbourne and Hull. These two cities are not near each other at all. Anyway, both gigs were jolly nice although the Hull one a little down on numbers. Oh well, can't have everything. Then it was back into UFQ workshopping action in Taunton as we worked with the musicians from Southwest Music School culminating in a concert at the end of it all. It was rather tiring but the concert was a good, fun, noisy gig!
This weekend sees a gig at the Market Vaults in Stafford, my favourite pub in the world and a wonderful hub for me over the years. It's where my gigging began, it's where I've met many of my greatest friends, it's where I've spent many of my happiest hours. It could all be about to change. Oli who has done an unbelievable job at the pub is sadly moving on and leaves huge huge shoes to fill. It's difficult to know quite what the future holds for this dear little place. The gigs there over the years have been legendary and I'm sure this Saturday will be no different. After that, who knows? But I do know that this place has signified everything that can be wonderful about a pub. The people there look after each other, they keep an eye out and people of all walks of life get to know each other. Oli recognised those qualities but transformed its appeal to more people. I hope it stays that way, but whatever happens it's given me so many amazing times and a bit of security and stability in this mad life. So if you're in Stafford on Saturday, come on down. If my gigging era at the Vaults is to end, it'd be nice if it ended on a high.