"Everyone at the concert also wondered why these two had never teamed up before. An excellent, uplifting and cheering experience!"
— Simon Nicol (Fairport Convention)
"It was a special, special night, thanks to the talented Brooks Williams & Dan Walsh. You must see/book this duo if you are able – they're brilliant. The gig was up there with the best we have put on"
— Martin Richards (BGR Events)
"Brooks and Dan were amazing, such fabulous musicians and entertainers, blew the place away!"
— Johnny Fewing's (Whitstable Sessions)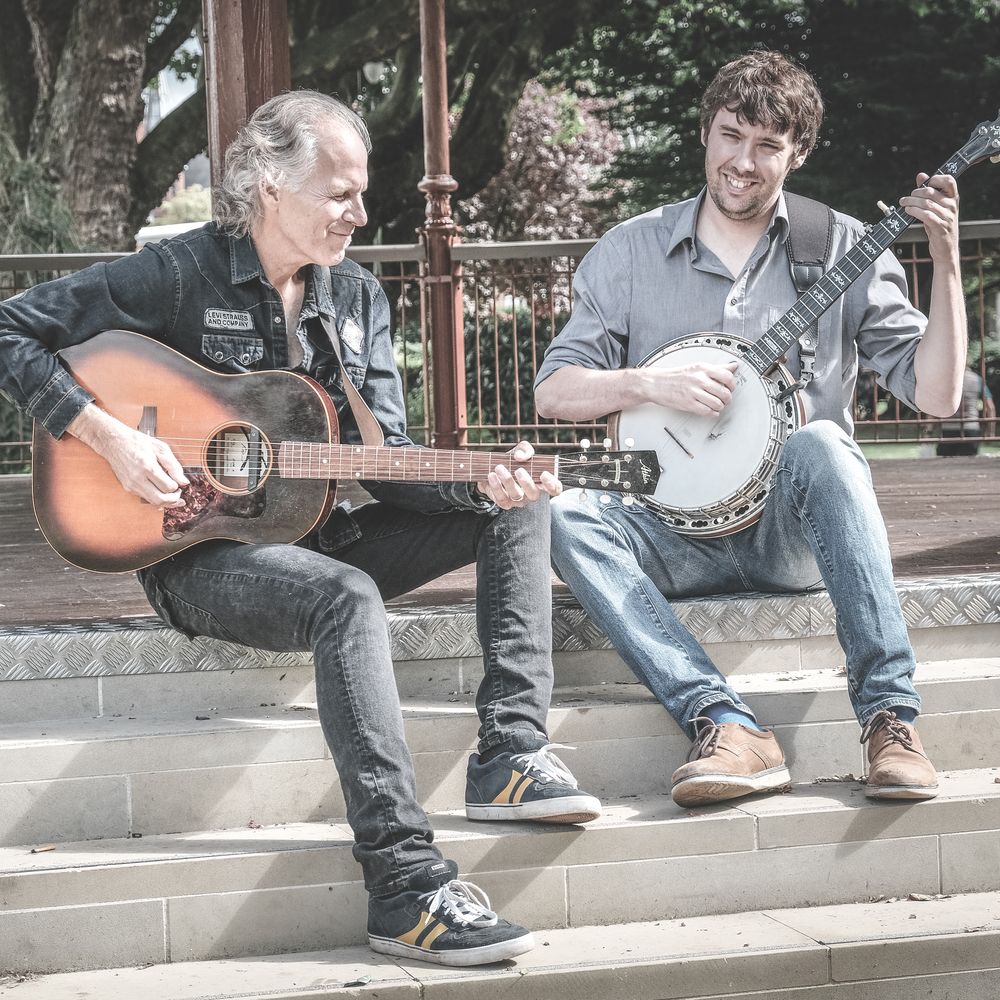 Brooks Williams & Dan Walsh
VIRTUOSIC GUITAR AND BANJO MEETS BRITISH AND AMERICANA ROOTS
Admired by both listeners and fellow musicians alike, Brooks Williams and Dan Walsh combine talents for an extraordinary collaboration of British and Americana roots music.
Each is a leading light on their respective instruments and they both bring buckets of charisma and talent to the stage. Add to that poignant songs and lively humour and the result is a truly remarkable duet. They will simply knock your socks off.
In 2020, they released a video of the Jimmie Davis and Eva Sargent classic, Columbus Stockade Blues. The response was instant and positive. You should do more of this, the predominant reaction.
And so they have.
With a few gigs under their belt, including Whitstable Sessions in Kent, Maverick Festival in Suffolk, and AVH Concerts in Derbyshire, Williams and Walsh have officially combined forces. Their repertoire includes their own songs and tunes, as well as classics from The Blind Boys Of Alabama, Norman Blake, Bessie Smith and Nanci Griffith.
Brooks Williams plays guitar with 'melodic virtuosity' (IRISH NEWS), effortlessly combining old-time fingerpicking, country flat picking and bluesy backbeats. He's rated one of the Top 100 Acoustic Guitarists and is 'quite simply one of the most unassuming, natural performers on the circuit' (FATEA).
BBC Folk Awards 'Best Musician' nominee Dan Walsh plays British, Irish and American folk music. His 'virtuoso playing' (MORNING STAR) features a unique and dazzling take on clawhammer style banjo helping to challenge all preconceptions about the instrument. 'Absolutely terrific' (Mark Radcliffe, BBC RADIO 2).