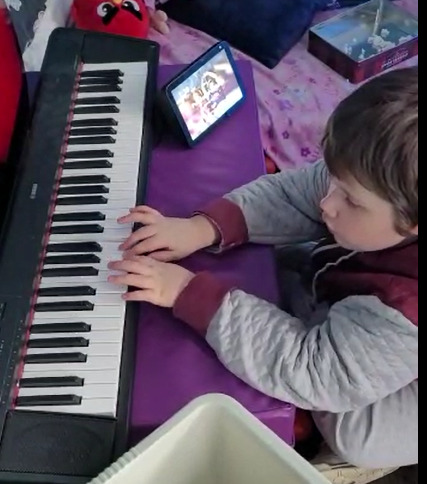 Very special charity live stream on 15th April- 7pm!
I have a great passion for outreach work in music and it has been a privilege for the last few years to work with the extraordinary Codi Wild. Through the wonderful The Amber Trust, I was assigned to work with Codi and he is such an engaging, hilarious and staggeringly musical child and I am so pleased that he gets so much out of our sessions just as I do. His ability to hear tunes, pick them out and play them is absolutely astounding – perhaps the best example was when he played and sang (in Spanish!) the Real Madrid club song to me in three different keys!
Codi has septo optic dysplasia, meaning codi is visually impaired, lacking in all hormones including growth and sleep and has learning disabilities and difficulties. Codi is 50/50 wheelchair bound due to muscle weakness and twisted thigh bones. He is life limited as infections can be life threatening to him – due to him lacking in cortisol hormone his body can't fight infections and broken bones can send his body into shock. In all he has 23 different disabilities and health issues.
I found out recently through the family that Codi has frequently asked for a bike. Owing to his physical condition, a regular bike is not an option but a special wheelchair bike is…but it costs £5,000. So this is what the gig is for – the usual format for my livestreams will apply which is it's free to watch but donations are gratefully accepted at 
www.paypal.me/danwalshbanjo
 but this time all monies raised will go to Codi's bike fund. I really really want to see him get that bike! 
See less