Dear all,
Hope you had a lovely Easter and April thus far (man it's moving fast isn't it?!). My first ever trio tour is drawing ever nearer, do please get your tickets for the gigs. It makes my life a lot more relaxing 🙂 See the homepage for all the details. Don't forget to catch UFQ as well we're in Bristol, Chester and France before the month's out and I even squeeze in a vist to Ibiza, yes IBIZA before the trio fun begins. Those of you know me will be thinking 'of all the people likely to visit Ibiza, I would put Dan Walsh just about last on the list'. And you'd be right. But I am playing the Costa del Folk festival (yes that really is a thing) with the legendary Alistair Anderson. Not a sentence I ever thought I'd say.
Anyway to bring you up to speed, I had a cracking gig at the Maverick in Stourbridge. I play very few pubs these days as I'm trying to get you all to pay to see me (!) but this is a belting little place and this is the second time I've done it. It's rather handily got a great room music fans cram into to listen and I had a really wonderful time at this one. Then it was off to Walton Hall school in Eccleshall, Staffs to run a richly entertaining day of workshops using music from different decades. I have to particularly give a shout out to the class that performed 'Eye Of The Tiger'. That was serious fun!
Next up it was down to Norwich to rehearse with the trio, then a bit of teaching then a gig at the old homestead The Market Vaults in Stafford. Much has been written about this pub elsewhere in the archives. It is a truly special place and this was another superbly fun three hour marathon and reminded me why it is the best pub in all the world. Check out the burgers too – ooh my word.
Then April came along and after some teaching and whatnot it was a pair of two more old pub favourites – The Haberdashers in Knighton and The Bulls Head in Chelmarsh. I saw a little gap in my diary and thought why not continue with my mission to never have a rest and play some cracking little places. Both of these are belters and I really had a great time. There's a different atmosphere to a pub gig – lots of fun banter (and I actually mean fun banter rather than 'banter' as certain people see it) and a chance to play material I don't play elsewhere. A great combination of this and the 'concert' vibe made these two gigs absolutely lovely.
Next up it was a UFQ workshop day in Birmingham at the spanking new Conservatoire. Joe has been running his fiddle school once a month for many years and it's become a bit of a staple to have a special UFQ day every year where we do tunes together, provide individual lessons, percussion class, I ran a vocal thing this time…it was really top notch. Everyone seemed to have a great time and Joe truly is an exceptional workshop leader. More on him later…
A few days later I played at a care home in Stafford which was a wonderful experience and reminded me of my Live Music Now days. I've written plenty about Live Music Now over the years but just to give you a recap – it's the wonderful charity created by Yehudi Menuhin with the dual aims of giving newly professional musicians paid work and more importantly bringing music to places where it can make an extremely profound difference. This concert reminded me of that in spades with people so moved by music in such a profound way. Memories stirred, feeling of personal worth and just damn good fun. See more about Live Music Now here: http://www.livemusicnow.org.uk

Then came a UFQ gig in Uffington in Oxfordshire which was a real blast to an almost packed house. Finally, last night was in Chester…
Which brings me on to the subject of my bandmate Joe. The Raven Folk Club in Chester is 40 years old this year and as part of their anniversary celebrations hosted an evening of Joe Broughton and friends as this was the gig where it all began for Joe when he was 10. The evening featured Joe's original act – his duo with brother Ben, Kevin Dempsey, Chris While and Julie Matthews, a percentage of his ludicrously massive Folk Ensemble and of course UFQ. Joe is a truly exceptional musician, entertainer, composer and teacher. His folk ensemble is testament to his remarkable ability to compose and arrange and to enthuse people. Like my other compatriot Alistair Anderson, he has done such amazing work to keep the flame of folk alive and make it exciting and something to enjoy rather than something to fear. My association with the man goes back to when I was 14. My mum took me to see the Albion Band at the Gatehouse Theatre as I had by this point seriously got into folk and she saw it in the brochure. I enjoyed the gig but what stood out was this exceptional fiddle player (who was wearing his pyjamas!) and it was one of those watershed moments for me. I remained an avid fan and loved his latest band The Urban Folk Quartet who I met in 2012 at Priddy Folk Festival when they were on after Walsh and Pound. It was great to meet the man himself but I didn't think too much more of it. Then in early 2013, when frankly I was in need of a bit of a boost I received an unexpected facebook message from one Joe Broughton asking if I'd be interested in working with him. I tried (and probably failed) to be as cool as possible in my reply and we met up in Stafford for a chat. Much to my surprise I was invited to join the Urban Folk Quartet. The phrase 'no brainer' could have been invented for this moment. Since then I've had the time of my life working with Joe, Paloma and Tom who are the most exceptional musicians and people and in the process I appear to have fulfilled a dream. Maybe I've done something right after all…
So thank you Joe for being a wonderful musician, bandmate, friend and all round talented git. I also have to say another childhood dream came into fruition yesterday, albeit in a modern day kind of way!  As a kid, my parents introduced me to two very important bands in my life The Saw Doctors and Horslips. A few years ago I got to play on stage with two of the Saw Doctors which was pretty surreal. Then yesterday a cover I did of a Horslips song many years ago which has been on youtube for yonks somehow ended up being viewed by a member of the band, Eamon Carr. Then this happened: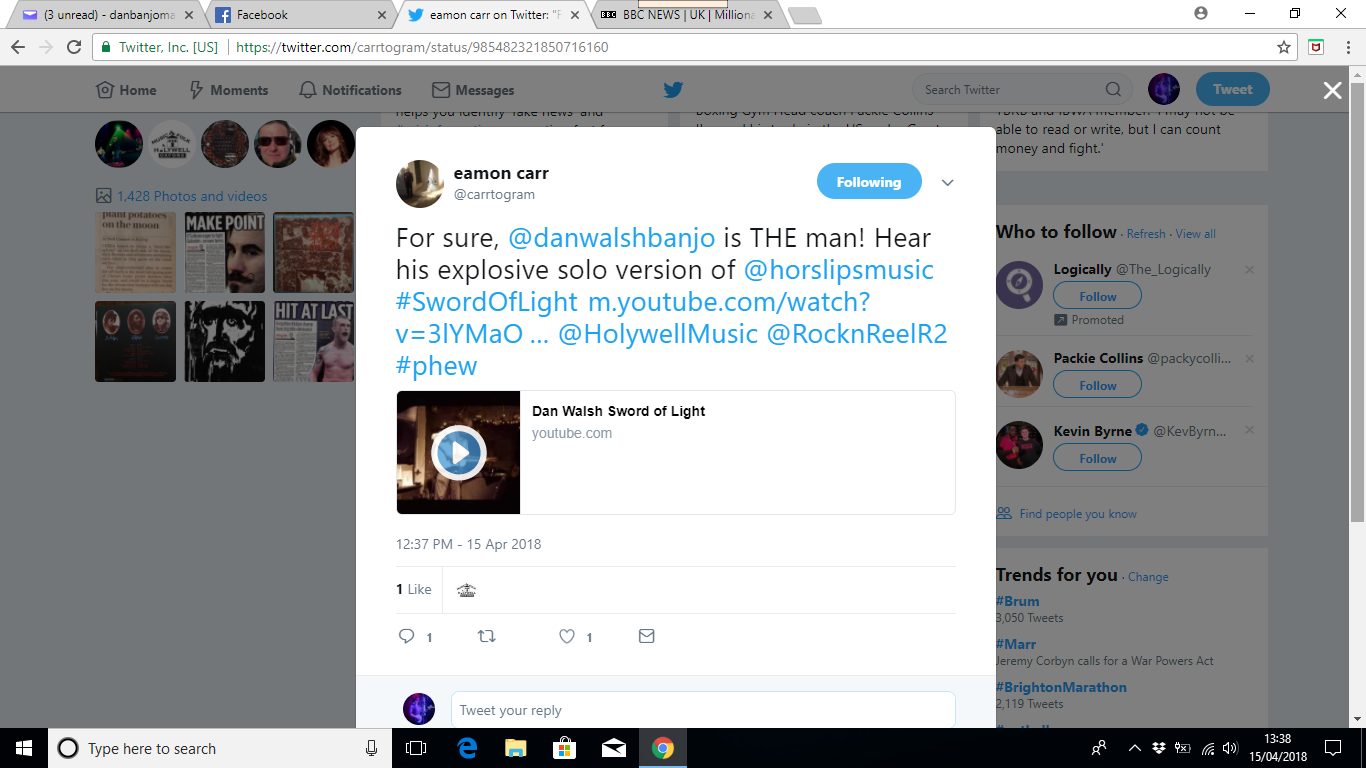 It's no secret I have mixed opinions of being a musician. But three dreams have kind of come true…